Fluidanims (FA) is the birth place of official  Rock Hard Gladiators persay 
It started in 2005 by Stone (Travis Steven) and Terkoiz (Philips Lacanlale), it was then later merged with Stickpage and shutdown because the site had hosting issues. and could not continue until it found it new hoster. Fluidanims was one of the greatest stickfigure hosting website there ever was, and was well known for its RHG tournament rounds,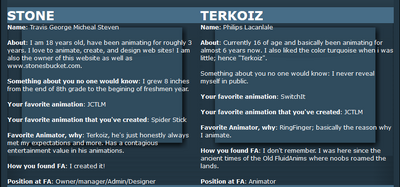 FA is still remembered up to this day.

gone but not forgotten